You are here
Paramedicine Program
Who are Paramedics
Paramedics provide the most advanced level of prehospital emergency patient care for critically ill and injured patients who access the emergency medical system. Paramedics function as part of a comprehensive EMS response, under medical oversight. Paramedics perform interventions with the basic and advanced equipment typically found on an ambulance. The Paramedic is a link from the scene into the health care system. A Paramedic possesses the complex knowledge and skills necessary to provide compassionate, comprehensive advanced patient care and transportation.
Program Highlights
Train Like You Fight! Through an integrated approach to theory, practice, and high-fidelity simulation in a real-world environment, students learn to care for increasingly complex cases. Opportunity to complete field rotations in busy urban ALS systems.
Dread boring lectures? Through projects, flipped classes, technology infusion, experiential learning, and other emerging teaching strategies, our students are actively engaged in the curriculum.
Great Team! Learn and work together in an academy-style learning environment. We offer low student to instructor ratios, uniformed staff and students, and an emphasis on teamwork and leadership to foster clinical readiness and professionalism.
Learn on your Schedule. Flexibility with day and evening cohort model options.
Land your Dream Job! High Pass Rates and 100% Job Placement! Graduate with a portfolio and important industry contacts to earn the job you've been waiting for!
Course of Study
The MassBay Paramedicine program prepares students to become members of the health care team and function as paramedics in a variety of different settings. The program provides students with knowledge, skills, and clinical decision-making skills to manage patients of all ages with acute and critical illness.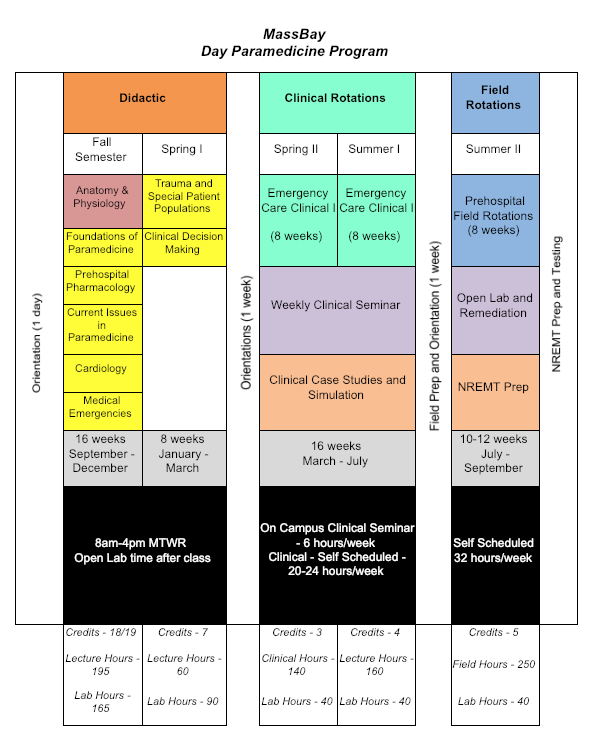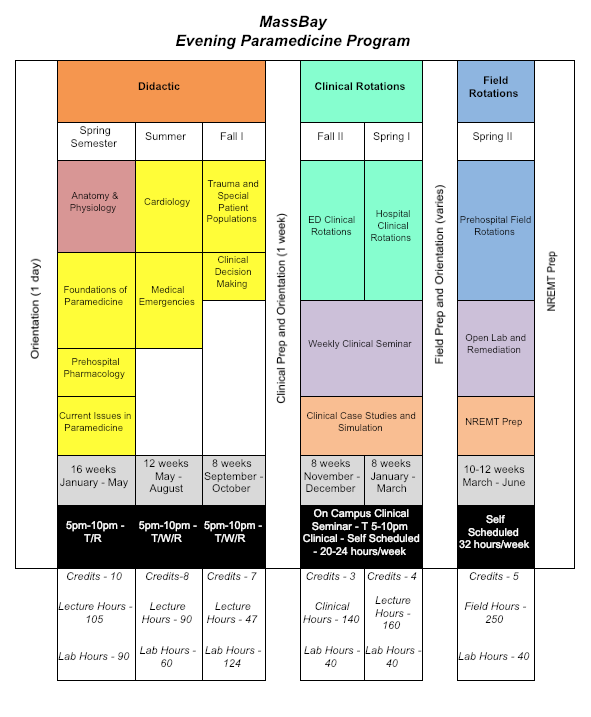 Admissions
We are currently accepting applications for our upcoming Day and Evening Paramedicine Programs! To apply, candidates must complete the application, meet all entry requirements, and attend an information session. The Admissions Office will provide information regarding the admissions criteria for the EMT Program and/or other health programs. Please call (508) 270-4059 for more information. Interested applicants should meet with an Academic Advisor and/or the Program Director to ensure they have met the program's admission criteria.
Apply early to avoid any delays in processing and required placement testing
Criteria for Admission to Paramedicine Certificate can be viewed here.
Participation in a Program Orientation
Students will receive a letter from the Division of Health Sciences regarding the date and time of their program orientation. At the program orientation, the student will learn about important policies and procedures and will register for classes.
Program Effectiveness Data
Paramedicine Program Effectiveness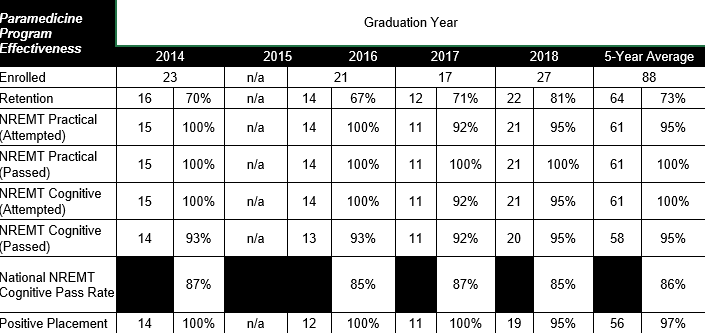 Paramedicine Program Accreditation
The Paramedicine Program is accredited by the Commission on Accreditation of Allied Health Education Programs (www.caahep.org) upon the recommendation of the Committee on Accreditation of Educational Programs for the Emergency Medical Services Professions (CoAEMSP).
Commission on Accreditation of Allied Health Education Programs
25400 U.S. Highway 19 North, Suite 158
Clearwater, FL 33763
www.caahep.org
The EMT and Paramedicine Programs are accredited by the Massachusetts Department of Public Health, Office of Emergency Medical Services (OEMS).
Office of Emergency Medical Services
99 Chauncy Street
11th Floor
Boston, MA 02111
Telephone: (617) 753-7300
Fax: (617) 753-7320
Questions? We are here to help!
Contact us