You are here
EMT Program
Who are Emergency Medical Technicians
Emergency Medical Technicians (EMTs) are the link from the scene to the emergency health care system. EMTs provide basic emergency medical care and transportation for critical and emergent patients who access the emergency medical system. EMTs are trained in patient assessment, anatomy and physiology, pathophysiology, management of medical and trauma patients, medication administration, as well as safe and effective EMS operations.
EMT and Paramedicine Program Accreditation
The EMT and Paramedicine Programs are accredited by the Massachusetts Department of Public Health, Office of Emergency Medical Services (OEMS).
Office of Emergency Medical Services
99 Chauncy Street
11th Floor
Boston, Massachusetts 02111
Telephone: (617) 753-7300
Fax: (617) 753-7320
Why become an EMT
The reasons for becoming an EMT are as varied as the people that come into this field. Some become EMTs to learn the skills to help their families and neighborhoods in the event of a disaster. Some use their EMT training to advance their education to become paramedics or enter other medical fields. Whatever your reasons, know that this is a dynamic, challenging, and demanding profession. EMS professionals must have passion, dedication, compassion. Being an EMT is not for everyone, but for those that answer the call, it can be a life-long passion!
Program Highlights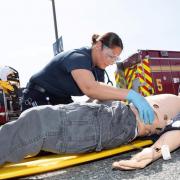 Train Like You Fight! We offer the only intensive assessment seminar and field rotations for EMTs in Massachusetts.
Practice for the real world! Through an integrated approach to theory, practice, and high-fidelity simulation in a real-world environment, students learn to care for medical and trauma patients.
Dread boring lectures? Through projects, flipped classes, technology infusion, experiential learning, and other emerging teaching strategies, our students are actively engaged in the curriculum.
Great Team! We offer low student to instructor ratios, uniformed staff and students, and an emphasis on teamwork and leadership to foster clinical readiness and professionalism.
Land your Dream Job! Graduate with a portfolio and important industry contacts to earn the job you've been waiting for!
Learn on your Schedule. Flexibility with day and evening scheduling options.
Course of Study
The EMT program prepares students for careers as EMTs through a combination of lecture, lab, simulation, and field rotations. Upon completion of the EMT Program, graduates will be eligible to take the National Registry of EMTs (NREMT) certification exams, which is required for state EMT licensure.
Fall and Spring Semester
Day Option

Tuesday, Wednesday, Thursday 8am-12pm

Evening Option

Monday, Tuesday, Wednesday 6pm-10pm
Summer Semester
10 weeks (May-July)

Tuesday, Wednesday, Thursday 8am-2pm
Please refer to the Emergency Medical Technician Course Curriculum Sheet for course detail.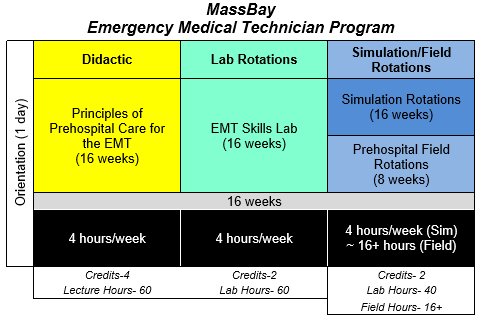 Admissions
There are 2 pathways for students to seek EMT certification at MassBay. Both options allow a successful graduate to earn NREMT certification.
Non-Matriculated student

Students who are only interested in EMT licensure or may not be eligible for the certificate (HS students and others) may enroll in EMT courses with the approval of the Program Director.
Please call 508-270-4037 to set up a meeting.

Certificate-seeking student (Traditional Admissions)

See the checklist for EMT Day or Evening Students here
To apply, candidates must complete the application, meet all entry requirements, and attend an information session. The Admissions Office will provide information regarding the admissions criteria for the EMT Program and/or other health programs. Interested applicants should meet with Admissions and/or Program Director to ensure they have met the program's admission criteria.
All students must attend an orientation prior to the start of classes. Once you are accepted, you will receive this information.
Where will you work as an EMT?
EMTs primarily work on ambulances providing emergent and non-emergent patient care at private, municipal, or fire service based EMS agencies. They may also work in Emergency Departments, in industrial settings, as well as in education, sports teams, and volunteer groups.
Employment Outlook
According to the U.S. Department of Labor, Bureau of Labor Statistics:
Employment of emergency medical technicians (EMTs) and paramedics is projected to grow 23 percent from 2012 to 2022, much faster than the average for all occupations. Emergencies, such as car crashes, natural disasters, or acts of violence, will continue to create demand for EMTs and paramedics. Demand for part-time, volunteer EMTs and paramedics in rural areas and smaller metropolitan areas will also continue.
Growth in the middle-aged and elderly population will lead to an increase in the number of age-related health emergencies, such as heart attacks or strokes. This, in turn, will create greater demand for EMTs and paramedic services. An increase in the number of specialized medical facilities will require more EMTs and paramedics to transfer patients with specific conditions to these facilities for treatment.
EMT Certification
Students who successfully complete the MassBay EMS Education program will be eligible:
To sit for National Registry of EMTs certification

The psychomotor exam is offered on campus at the end of every program.
The cognitive exam is offered at PearsonVue testing centers throughout the area.
Licensing Questions? We are here to help!